| | |
| --- | --- |
| Position Type: | Full-time |
| Location: | London, ON |
| Date Posted: | Feb 28, 2021 |
| Compensation range: | $52,500 ~ $75,000 Per Year |
| Public transit accessible: | Yes |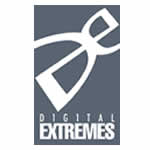 Job Description
ABOUT DIGITAL EXTREMES
Founded in 1993, Digital Extremes has become an employer of choice for talented people seeking rewarding career opportunities in the gaming industry. We are widely recognized for creating the award-winning Warframe, a free-to-play, third-person coop, PVP action shooter, space ninja adventure game available on PC, PlayStation, Xbox and Nintendo Switch. Our early titles include Epic Pinball, Solar Winds: The Escape, Unreal and Unreal Tournament co-created series (and all its iterations) as well as The Darkness II. With over 300 of the industry's widely talented and culturally diverse employees in both Canada and the US, we are warriors combining our expertise to deliver superior fast-paced gameplay and intense melee combat all with a great deal of passion.
WHY WORK AT DIGITAL EXTREMES
Our culture is centered on providing great opportunities to our employees so that everyone feels they are making a meaningful impact. Developing new and existing talent is our long-term focus. We are honored that our work environment has been consistently recognized as one of "Canada's Top 100 Employers". We summon you to join our elite team! 
The rewards of a career with Digital Extremes include:
Competitive salary with bonus opportunities
Excellent benefits and paid time off
Matching RRSP plan
Employee Assistance Program (EAP)
Professional development and career support
Fitness and parking/transit subsidies
Daily lunches prepared onsite by our in-studio Executive Chef and professional kitchen staff
All-day snacks and drinks, sleep pods, massage chairs, cold brew, dog therapy days and more
ABOUT THIS POSITION
Digital Extremes is currently seeking a Technical Animator/Rigger to join our team. You will be working closely with the Tech team as well as Animators and Artists to create animator-friendly rigs, tools and scripts. A strong portfolio demonstrating your ability to create animator friendly rigs and MEL scripts is a must. You have superior knowledge and experience with Maya and MEL and a strong understanding of animation techniques. Knowledge of Motion Builder and Python would be preferred extras. 
RESPONSIBILITIES
Work closely with techs, animators and artists to create animator-friendly rigs, tools and scripts
Design and implement processes that support and improve all applicable areas of the animation pipeline
Understand and work with the game engine
REQUIREMENTS
A portfolio that demonstrates the ability to create animator-friendly rigs and MEL scripts
Experience with Maya
Knowledge of MEL
An understanding of animation techniques
Excellent troubleshooting, problem-solving, creativity and organizational skills
A genuine enthusiasm and interest in video games
JOIN US
Digital Extremes is an equal opportunity employer committed to diversity and inclusion. We welcome and encourage applications from people with disabilities. Accommodations are available upon request for candidates taking part in all aspects of the recruitment process. We thank you for your interest, however, only those candidates selected for the next steps in the hiring process will be contacted.

Please submit your application directly through our website:
https://www.digitalextremes.com/careers/postings/animation/technical-animatorrigger